DVD - Mother Teresa This powerful and moving film is considered the definitive portrait of Mother Teresa. Shot on the run over a period of five years in ten countries on four continents, this award-winning film follows Mother Teresa into the world's most troubled spots. Experience how Mother Teresa transcends political, religious and social barriers with her works of love based on a deep faith in Christ. DVD, $19.95

DVD - Mother Teresa: The Legacy From Emmy Award winning directors Ann and Jeanette Petrie comes Mother Teresa: The Legacy. The Official Film of the Occasion of her Beatification in Rome, the film contains new footage and interviews with one of the most beloved people of our time, Blessed Mother Teresa, and chronicles her on-going legacy.
DVD, $19.95

DVD - Padre Pio: Miracle Man captures the Capuchin friar's intense faith and devotion, and deep spiritual concern for others, as well as his great compassion for the sick and suffering. It reveals the amazing details and events in Padre Pio's life as a boy and throughout his 50 years as a friar, dramatizing the frequent attacks of the Devil on him, as well as the persecution he suffered at the hands of people, including those in the church. Starring Italian actor Sergio Castellitto, and directed by Carlo Carlei, this is an outstanding feature film on the amazing life of this great saint. Language Options: dubbed in English, Italian with English subtitles, and Spanish language. 210 minutes. DVD, $24.95

DVD - QUO VADIS. After a long restoration process, this superbly pristine edition of MGM's epic is finally available as a Special Deluxe 2-Disc Edition DVD set. Based on the historical novel, Quo Vadis ranks among the greatest religious film epics ever, with an outstanding cast including Robert Taylor, Deborah Kerr, Peter Ustinov and Leo Genn. Set in Rome during the reign of Emperor Nero (Ustinov), Quo Vadis chronicles the love story between a young slave girl Lygia (Kerr),a Christian convert, and Marcus (Taylor), a Roman General, while depicting the larger conflict between Christianity and the corruption of the Roman Empire. Nominated for eight Academy Awards, the film features lavish sets, a massive cast, gorgeous costumes, great acting and a powerful music score.
DVD, $24.95. Includes a second disc with many "extras" on the classic film.

DVD - St. Rita Famous as the patron saint of hopeless situations, St. Rita of Cascia is immortalized in this wonderful, deeply moving film about this beautiful woman who lived in Italy in the 14th century. Starring Victoria Belvedere and Martin Crewes, this powerful story combines high drama, great love, deep betrayal, senseless tragedy, profound forgiveness and strong faith as it tells the story of this brave and loyal woman who married her knight, helped him overcome his dark past and convert to faith, happily bore him two children, and later endures immense pain as she loses everything in her life. She finds peace and new hope through generosity of a nearby convent of sisters, and with their help she develops a deep union with Christ that greatly inspires all who know her. Language Options: dubbed in English, Italian with English subtitles, or Spanish subtitles. 200 minutes. DVD, $24.95

DVD - St. John Bosco Flavio Insinna gives a winning performance as John (Don) Bosco, the great priest and educator of youth from the tough streets of Turin, Italy. Beautifully filmed in Italy, this epic movie dramatizes the many challenges that Don Bosco had to overcome from his childhood through founding his religious order, the Salesians, for helping educate boys. Growing up without a father gave him compassion for the many orphans that he cared for, while he faced persecution from both secular society and the Church as he fought to build a place to house and educate the homeless, outcast youth of Turin. His deep faith, creative imagination and profound charity shine through in this wonderful film. Also stars Charles Dance (Gosford Park) and popular Italian singer and actress Lina Sastri. Language Options: English dubbed track, Italian with English or Spanish subtitles. 200 minutes. DVD, $24.95

DVD - St. Anthony of Padua The first major feature length drama on the life of St. Anthony of Padua, one of the most popular saints in Christian history. Made in Italy with top-notch acting talent, and superb cinematography, this is an outstanding film on the inspiring life of St. Anthony. It presents Anthony as a strong and appealing person who sacrificed wealth, popularity and looks for the Kingdom of God. It beautifully portrays the power of his preaching, the holiness of his life, his love for the poor and oppressed, and the wonders of his miracles. Sure to be a very popular film! Language Options: Italian with English subtitles. 95 minutes. DVD, $24.95

DVD - A Time for Miracles Kate Mulgrew gives a moving performance as St. Elizabeth Seton, America's first native born saint and a convert to Catholicism who overcame the great tragedy of the deaths of her young husband and two children, and went on to found the American Sisters of Charity and the first American Catholic schools. A Film of unusual strength and beauty. Also starring Lorne Green, John Forsythe and Rossano Brazzi. DVD, $19.95
Items here are listed alphabetically:
DVDs: C E F-I M P-Q Sts. T
Books: A B C D E F G H I J K L M N O P Q R S T U V W X Y Z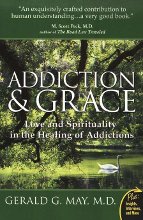 Drawing on his experience as a psychiatrist working with the chemically dependent, Dr. May emphasizes that addiction represents an attempt to assert complete control over our lives. Addiction and Grace is a compassionate and wise treatment of a topic of major concern in these most addictive of times, one that can provide a critical yet hopeful guide to a place of freedom based on contemplative spirituality.Softcover, $14.99

The Addictive Personality shows the common traits of all addictions and describes how, overtime, an addictive personality develops into a full blown disease. Learn answers to why and how we get caught in the web of addiction. Softcover, 116 pp., $14.95.

Alcoholics Anonymous is AA's classic big book and should be read by those involved in serious twelve step recovery, no matter what recovery group they belong to. It is full of wisdom as it explains each of the steps and gives reflections of those who share their experience, strength, and hope. Hardcover, 575 pp, $9.95

Am I Living A Spiritual Life. If you're ready to take the next step on the path of spiritual progress, these pages will provide you with the solid, faithful direction you need to develop a rich spiritual life, deepen it through regular prayer, and model it humbly in your relationships with others. From these short, accessible chapters you'll learn how to identify the greatest challenges you face as you seek to live a spiritual life, and you'll discover sound, proven strategies you can use to overcome each one of those challenges. Paperback, 210 pages, $14.95

The Anger Workbook, by Les Carter Ph.D. and Frank Minirth, Ph. D. A 13-step interactive plan that explains how emotions and unmet needs can feed anger--and tells how readers can find healthy ways to express and control it. This unique workbook offers answers for anyone who struggles with destructive anger and wants to develop healthy alternatives for dealing with it. The only anger management program on the market that offers interactive exercises to help the readers understand and modify behavior. Softcover, 237 pp., $13.95.

Arise from Darkness
Fr. Benedict Groeschel draws on his own years of personal experiences to offer practical suggestions on how to keep going and even grow with the help of God's grace, even when this help seems remote. Softcover, 182 pp., $14.95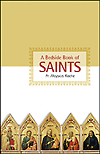 Bedside Book of Saints. Fr. Aloysius Roche shows you the saints not so much from a new angle as from a less familiar one, a comfortable angle that makes for a certain coziness. Without diluting the intensity and holiness of the saints, he tries to bring them near, to bring them home, to bring them to your very bedside. Paperback, 176 pp., $13.95.

Boys Should Be Boys. By letting boys be boys, Dr. Meg Meeker, author of Strong Fathers, Strong Daughters, follows up her success with Boys Should Be Boys-a guide for parents on how to raise a string son in these turbulent times. Taking readers on a journey from boyhood to manhood, Boys Should Be Boys delves into the mind, heart, and spirit of boys, showing parents how they can make a difference between the boy their son and the man he will become. Hardcover, 287 pp., $24.95.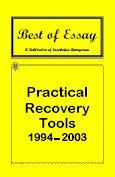 Best of Essay (SA) by Sexaholics Anonymous, Inc. SA has a quarterly publication called Essay. This book contains some of the best, most honest, and insightful articles on issues of sexual recovery written in Essay from 1994-2003. Paperback, $8.00.

As you'll see in Dr. Leman's study, The New Birth Order Book, your birth order powerfully influences who you are, who you marry, the job you choose, and the kind of parent you are. This is a book to help you understand yourself. Paperback, $14.99.

Christian Self-Mastery is a classic book on self-knowledge written in 1915 by the English convert, Fr. Basil Maturin. He insists that no matter how hard you're trying now, you can have a better relationship with God and neighbor, and greater self-mastery, if you can avoid self-deception when looking at yourself. You'll discover the principles that lead to true self-knowledge and thus to self-mastery. Paperback, 224 pp., $15.95.

Codependent No More: How to Stop Controlling Others and Start Caring for Yourself explains what codependence is, what it isn't, and how to move beyond it. The author helps us to identify our feelings, attitudes, and behaviors. Softcover, 232 pp., $15.95.

The Conjugal Act as a Personal Act: A Study of the Catholic Concept of the Conjugal Act in the Light of Christian Anthropology. In this insightful study, Dr. Donald Asci shows how the Catholic concept of sexuality and sexual intercourse articulates the ethical norms by which these profound realities are preserved and promoted. Consequently, the teachings of the Church open the path to a joy and fulfillment that only the deepest aspects of sexuality can supply. Softcover, 364 pp., $18.95. NEW!

Have you ever been puzzled or disturbed by the behavior of a family member, friend, or coworker and found yourself wondering, "What's going on?..." In Controlling People, bestselling author Patricia Evans tackles the "controlling personality" and reveals how and why these people try to run other people's lives. Can the pattern, or "spell", be broken? Yes! says the author. Softcover, 300 pages. $14.95

Samuel Shoemaker was an influential pastor and writer who greatly benefited the 12-Step movement at its beginnings through the Oxford groups. Courage to Change compiles his thoughts and teachings and shows the Christian roots of the 12-Step movement.Softcover, 223 pp., $13.95. New Edition

Daily Readings in Catholic Classics Drawing on the writings of thirty-four famous Catholic authors, this book ranges from the thoughts of Doctors of the Church like Saint Augustine, Saint Teresa of Avila and Saint Thomas Aquinas, to classic authors like Saint Francis de Sales, Thomas a Kempis, and Saint Bernard of Clairvaux, to popular 20th century spiritual guides like Bishop Fulton Sheen, Thomas Merton and Romano Guardini and, finally, the writings of a group of famous modern converts like G. K. Chesterton, Hilaire Belloc, Ronald Knox and John Henry Newman. Soft Cover, 360 pgs, $19.95.

Detaching with Love: Principles of the Spiritual Life. In this series of five, one-hour lectures, Fr. Emmerich presents the principles of the spiritual life, addressing the nature of true detachment, self-righteous behavior, the necessity of self-knowledge, the role of the passions, problems of purity, and the need for appropriate boundaries. Realizing that inner peace is a gift from the Risen Lord: "Peace is my farewell gift to you", Fr. addresses the reasons why we seldom find the peace of Christ dwelling in our hearts. We make the mistake of looking to the world - how others behave, treat us, or what they think about us - as the source of our serenity. In this series we learn us to "detach with love." The series comes on 5 CDs for $35.00.

To unlock the secrets of Satan's methods and devise a sure way to oppose them, Fr. Gerald Vann spent years studying the Gospel accounts of the temptation of Christ. This book, The Devil and How to Resist Him is the fruit of his labor. Paperback, 166 pp., $18.95.

The psychology of affirmation came into wide acceptance in the United States after the Second World War due to the tireless efforts of Dr. Conrad Baars. Doctor of the Heart is his autobiography detailing his life from Nazi concentration camp to Catholic psychiatrist. Paperback, 226 pp., $12.50. NEW!

A Do-It-At-Home Retreat This book is a most helpful and careful guide to anyone who desires to make an Ignatian retreat but is unable to make the Spiritual Exercises in a normal retreat. Fr. Ravier is an expert retreat master who has been giving Ignatian retreats for over 30 years. Softcover, 233 pp., $14.95

Beautifully printed on glossy paper, the Dominican Mission Manual was composed by the Friars of the Western Province to assist Christians in making a good retreat or parish mission. It contains beautiful prayers and thorough instructions on making a sincere confession, with a good examination of conscience. Paperback, 103 pp., $6.00. NEW!

Do You Love Me?A guaranteed way to improve your marriage immediately! This modest marriage-saving pamphlet has helped more than 100,000 couples heal the wounds in their marriages quickly. Through it, countless couples have learned to love each other as they ought, regardless of how imperfect their marriages may have grown. And even those with good marriages have found this pamphlet to be a way to deepen the love they already have for each other. Do You Love Me? Will improve any marriage! Pamphlet, 16 pages, out of print.

Anxiety disorders are some of the most common types of mental health problems among adults. Problems can range from mild anxiety and simple phobias to panic attacks and agoraphobia. This book, Embracing the Fear: Learning to Manage Anxiety & Panic Attacks, includes personal recovery stories and exercises that focus on managing our anxiety and changing the way we think and act. Softcover, 149 pp., $12.95.

The Enabler Do you confuse being needed with being loved? Do you relate to others by taking care of them? Then you may be an enabler. The enabler protects others from the consequences of their actions. But by always taking responsibility for those around them, enablers hurt the very people they love most. This sensitive and insightful book, written by a recovered enabler, shows how enabling relationships can be transformed into healthy ones. Softcover, 110 pp, $12.95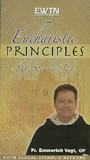 Eucharistic Principles of the Spiritual Life a step-by-step program Fr. Emmerich developed from his own experiences to help those who want to deepen their prayer life and personal sanctity. 6 episodes, 30 minutes each, on one DVD. $25.00

Finding God's Will For You
Savor the peaceful certainty that you are on the path He has personally chosen for you. As you begin to discern God's loving hand even in seemingly chaotic events, St Francis De Sales will lead your mind and your heart to the still waters of God's gentle consolation. Softcover, 147 pp., $12.95.

Fr. Fred and the Twelve Steps is a profound but very practical approach to spiritual wholeness and emotional maturity, by Fr. Fred a Jesuit for 70 years and a member of AA for 38 years. Fr. Fred is featured in The Anonymous Disciple. Out of Print.

Fire Within is a thorough treatment of the spiritual life of prayer. Fr. Dubay explicates biblical teaching on prayer and the spiritual life and relates it to the teaching of the great Carmelite mystics. A wonderful spiritual reading book that cogently explains the life of prayer for the Christian of today. Sewn Softcover, 358 pp., $17.95.

From the Angel's Blackboard: The Best of Fulton J. Sheen. This Classic but out of print book by Ligouri Press contains timeless truths and spiritual wisdom from the bishop who touched the lives of millions. Softcover, 245 pp., $14.95. NEW!

From Binge to Blackout Considered a rite of passage, teenage drinking has skyrocketed to epidemic proportions. This book, written from the viewpoints of both mother and son, is a riveting, enlightening, and heartbreakingly true story of a family confronting the fear, pain, and denial that threatened to destroy them. Paperback, 410 pages, $15.00.

Getting Free: How to Overcome Persistent Personal Problems
Simple willpower isn't enough when you're struggling against anger, anxiety, addictions, sexual temptations, and other common problems. Here Bert Ghezzi insists that the power of the Holy Spirit - and only His power - is strong enough to overcome these deeply rooted and disheartening difficulties. Softcover, 144 pp., Out of Print.

Relying on the same wise and lucid explanations that won the hearts of so many viewers, Archbishop Sheen in God's World and Our Place in It demonstrates that Christianity makes good sense - even to persons who have no religious background. Paperback, 176 pp., $12.95. NEW!

Good News About Sex and Marriage: Answers to Your Honest Questions about Catholic Teaching. Christopher West's book taps into the desire we all have for deep spirituality and an integrated life. He draws upon his own remarkable life experience and his theological training to shape answers to the most sublime and some of the most gritty questions spouses are likely to have. Those who adopt the principles of the book will have much happier marriages. Paperback, 191 pp., $11.95. NEW!

Growing Up Again: Parenting Ourselves, Parenting Our Children offers guidance on providing children with the structure and nurturing that are so critical to their healthy development-and to our own. It also addresses the special demands of adopted children and blended families, the character of prenatal life, and the growing problem of over indulgence. Softcover, 310pp, $16.95

The Harder They Fall
Celebrities tell their real-life stories of addiction and recovery. Gary Stromberg and Jane Merrill profile musicians, writers, actors, athletes, and politicians who all found a way to climb out from the devastation of addiction to reclaim their lives of extraordinary accomplishment. Hardcover, 329 pp., $21.95.

The Heart of Virtue takes lessons from the lives of real individuals to illustrate the beauty and value of moral character. It brings to life in an inspirational way what is at the core of every true moral virtue, namely, love. It presents twenty-eight different virtues and reveals, through stories that personify these virtues, how love is expressed. Softcover, 231pp, $14.95

He Leadeth Me
Captured by the Russian army during World War II and convicted of being a "Vatican Spy", American Jesuit Father Walter J. Ciszek spent some 23 agonizing years in Soviet prisons and the labor camps of Siberia. He Leadeth Me is a book to inspire all Christians to greater faith and trust in God - even in their darkest hour. Softcover, 202 pp., $14.95.

Not all disorders are caused by the repression of emotions. Conrad Baars, MD and Anna Terruwe, MD in Healing the Unaffirmed show convincingly that a specific syndrome develops when a person has been deprived of affirming love. What the unaffirmed person needs is affirmation therapy, which entails far more than simply giving "T.L.C." (Tender Loving Care). This therapy involves the healing of the whole person -- body, mind and spirit. Recognizing emotional deprivation disorder is the first step in correcting, through affirmation, many grave individual and global ills. Authentic affirmation brings about peace, self-confidence and joy. Paperback, 222 pp., $13.95.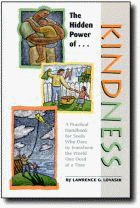 The Hidden Power of Kindness There's nothing complicated or magical about learning to be kinder; it just takes greater attention to the things that you do and how you do them. These pages show you how to become more aware of even your most offhand daily actions. You'll find simple, step-by-step, and spiritually crucial directions for how to overcome the habitual unkindnesses that creep - undetected - into the behavior of even the most careful souls. Paperback, 256 pp, $17.95

How to Make a Good Confession: A Pocket Guide to Reconciliation with God by John A. Kane. If you still drag your feet about going to Confession, here's the help you need to enable you to overcome your reluctance and open your soul to the vast reservoir of mercy found in Confession. This down-to-earth, practical guide shows you how to transform your confessions from embarrassing moments in a dark room into profound experiences of God's love. The author, Fr. John Kane, provides solid guidelines for how you can (and must) make the most effective possible use of the sacrament of Reconciliation. Even better, he shows you how to carry the grace of Confession into your daily life, so that you'll start winning-consistently-your battles against sin. 144 pages, paperback, $10.95.

How to Raise Good Catholic Children Author Mary Reed Newland here draws on her own experiences as the mother of seven to show how the classic Christian principles of sanctity can be translated into terms easily applied to children --- even to the very young! And because it's rooted in experience, not in theory, nothing that Mrs. Newland suggests is impossible or extraordinary. In fact, as you reflect on your experiences with your own children, you'll quickly agree that hers is an excellent commonsense approach to raising good Catholic children. 252 pages, paperback, $16.95.

Unlike other books on depression, I Can See Tomorrow goes beyond the diagnosis and offers practical, relevant information and action steps to improve the chance and quality of recovery. Psychologist Patricia Owen, PH.D. examines new antidepressants, discusses how depression affects an individual's family and career, and explore the relationship between depression and chemical dependency. Dr. Owen is the director of the Butler Center for Research and Education at the Hazelden Institute. Paperback, 183 pp., $13.95. New Edition.

I Believe In Love
The key to happiness from one who found it in joyful abundance: St Thérèse of Lisieux. Fr. Jean C. J. d'Elbée brings you St. Thérèse's teachings on God's love and the confidence in Him that it should inspire in your soul. Softcover, 280 pp., $15.95.

The Imitation of Christ by Thomas a Kempis is a timeless classic. William Creasy's version is more than a new translation of a timeless work: it's a recreation of a 560-year old classic that infuses it with life and meaning for contemporary readers. Paperback, 192pp, $11.95 NEW!


The Language of Letting Go, Melodie Beattie has created a reflection book for co-dependents. Here are reflections that nurture spiritual and emotional health, serenity, and recovery. Focusing on self-esteem and acceptance, these daily reflections give voice to the thoughts and feelings common to men and women in recovery. They encourage fruitful reflection on problem-solving and detachment. Paper, 391 pp., $16.95

Let God's Light Shine Forth:
The Spiritual Vision of Pope Benedict XVI "The purpose of our lives is to reveal God to men.... Each of us is the result of a thought of God. Each of us is willed, each of us is loved, each of us is necessary." His Holiness Pope Benedict XVI. Hardcover, 215 pp., $17.95.

The Life of Prayer This retreat consists of conferences and homilies given at Casa Maria Retreat House, Birmingham, Alabama. Fr. Emmerich discusses how our prayer life must be grounded in Gospel living if it is to be legitimate and fruitful. He then discusses the various stages of spiritual growth in the life of prayer. 4-CDs for $30.00.

From the daily life of one of the most beloved people of our century comes: Love: A Fruit Always in Season daily meditations using the words of Mother Teresa of Calcutta. Collected from many sources, both published and private, These daily meditations have been arranged according to various themes. Good soul food! Paper, 260 pp., $14.95.

Mother Angelica's Private and Pithy Lessons From the Scriptures. The founder of the largest religious media empire shares her beloved wit and down-to-earth spirituality. Editor Raymond Arroyo draws on hundreds of never-before-released private lessons to present the renowned Nun's definitive take on the Good Book. Mother Angelica provides readers with guided meditations, probing personal questions, and reveals an often-overlooked practical spirituality. She doesn't just explain the stories, she relates them to our daily lives, helping even those who've never opened a Bible experience its power and life-altering lessons. Hardcover, 256 pages. $17.95

A Mother's Rule of Life On January 1, 2000, Holly Pierlot pounded her fist on the kitchen table and yelled at her husband, "I can't take it anymore!" Today, everything's better. Holly still home schools, but the house is cleaner, she gets more done, and the kids are happier. There's less stress, less strife, and less housework. Holly's been healed of past wounds that troubled her soul and her marriage. Best of all, she spends at least an hour each day in prayer and time each evening with Philip. Paperback, 224 pp., $14.95

12 Step Review Pamphlet Series by the 12 Step Review: Detaching with Love, The Passions, Sexual Sobriety, Friendship in Christ, and our new pamphlets on the Steps: Step One through Step Twelve. $1.00 each.

Dr. Kevin Leman is an internationally known psychologist and bestselling author. He is founder of "REAL FAMILIES" and president of "Couples of Promise". In his new book, The Perfect Match, (formerly titled The Birth Order Connection) he uses solid, objective criteria to explain how to find the best spouse. He describes how birth order has shaped you and the person you are thinking of marrying. From him you can learn how to recognize someone who is a match for you. Out of Print

Fr. Thomas Dubay, a renowned teacher and writer on prayer and the spiritual life, presents a simple, profound, and practical book on communion with God. Prayer Primer: Igniting a Fire Within is written for intelligent adults who desire a serious prayer life. Paperback, 188 pp., $12.95.

Why Does God Allow us to Suffer? Father Morris peels back the layers of questions that arise when someone asks the question "why me?" He not only writes about how to understand and live with suffering, he also poses the toughest question to God: why do we suffer under a benevolent God? Father Morris delves into how to be healed from the spiritual, emotional, and even physical scars left behind by suffering. He offers six principles for living a free life, that is, a life free of the fear that God is not there for us. The Promise, Hardcover, $24.95.

Pope Paul VI has called Dr. Anna Terruwe's work "a special gift to the Church." In Psychic Wholeness and Healing she teamed up with her confrere and fellow Dutchman, Dr. Conrad Baars (who was captured by the Nazis and sen to Buchenwald and later served in the American Army during the Korean War). These noted Catholic psychiatrists blend classical Christian notions of the human psyche and modern clinical discoveries. Paperback, 264 pp., Out of Print.

Rational-Emotive Therapy Pamphlets. It's not easy to talk about your feelings. It's usually easier to ignore them. But how you feel about certain situations does affect how you act. These pamphlets help you to learn and practice new ways of thinking, feeling, and acting. Subjects include: anger, anxiety, depression, grief, guilt, perfectionism, and self-esteem - seven different pamphlets, approx. 25 pages in each. Each pamphlet is $3.50.

Reflections on the Death of a Loved One. Father Antoninus Wall, OP, dicusses many of the questions we have at the difficult time of the death of someone close to us. He uses the light of our faith, the gospels, and the thoughts of St. Thomas Aquinas to help us to understand and grow in love through this experience. Pamphlet, 8 pp., $2.00

Reflections on Terminal Illness. Father Antoninus Wall, OP, dicusses the process and pain of death as we come face to face with our mortality. By focusing on hope and love, using our faith, he presents the message and mission of Christ to bring comfort and peace. Pamphlet, 8 pp., $2.00

Recovery from Compulsive Eating is a complete reference to recovering from compulsive eating through Over-eaters Anonymous. It covers everything from getting started and figuring out what to eat to working the steps of recovery. This book documents precisely what works in OA for long-term success. Softcover, 180 pp., $13.95.

Recovery Continues (SA) This book contains twenty-four articles on various issues relating to recovery from sexual addiction, such as the connection between lust and resentment, lust and dependency, masturbation and sexual sobriety, self-awareness and sexual dreams, sobriety versus recovery, covetousness and idolatry, the anatomy of a look, etc. Paperback, $8.00.

Rewind, Replay, Repeat: A Memoir of Obsessive Compulsive Disorder Nagging doubt: It's a part of everyday life, and so too is the inclination to act on it. Who hasn't doubled back to check on a door or appliance? But what if one check wasn't enough? Nor two or three? Such was the case for Jeff Bell, a husband, father, and highly successful radio news anchor-and one of the millions of Americans living with obsessive-compulsive disorder (OCD). 368 pages, Paperback, $13.95.

A wonderful gift given to us by the Lord is the "communion of saints"--The influence of our brothers and sisters in heaven who live with Jesus ever to make intercession for us. Its good to have friends in high places! These friends are the Saints--men, women, and children who have faced the same troubles and challenges that you face now. Befriend them. In Saints for Every Occasion by Thomas Craughwell you will meet 101 saints, each of whom triumphed over immense obstacles in their lives and stand ready to help you do the same. Hardcover, 412 pp., $19.95 NEW!

Same Sex Attraction: A Parent's Guide edited by Fr. John F. Harvey and Gerard V. Bradley. This work addresses parents whose children believe themselves to be attracted sexually to persons of the same sex, and it involves many aspects of the complex issues surrounding homosexuality and the homosexual movement. Renowned scholars in scripture, dogmatic and moral theology, philosophy, canon and civil law, pastoral theology, and psychology and psychiatry address the many aspects of the subject with care, sensitivity and clarity. Experts in this volume include Fr. John Harvey, Dr. Joseph Nicolosi, Fr. Benedict Ashley, O.P., Dr. Jeffrey Satinover, Cardinals John O'Conner and Anthony Bevilaqua, Gerard Bradley, Cormac Burke, John Finnis, Helen Hitchcock and Alan Medinger. Out of Print.

Secret Diary of Elisabeth Leseur: The Woman Whose Goodness Changed Her Husband from Atheist to Priest This inspiring book gives you a splendid example of how to live as a Christian in a secular environment that can be indifferent or hostile to your Faith. "No spiritual writer has taught me more than this French housewife about the sanctifying power of the sacrament of marriage, especially those unions that for one reason or another might be labeled 'difficult.' A true spiritual sister of St. Thérèse of Lisieux, Elisabeth Leseur discovered and practiced her own 'Little Way' - a form of sacrificial love and asceticism uniquely suited to the domestic context." Robin Maas, John Paul II Institute for Studies on Marriage and Family. Paperback, 336 pp., $19.95.

The Secret Language of Eating Disorders
Peggy Claude-Pierre has gone beyond the surface of eating disorders to discover their true causes and then present a valid and healing path. In this extremely constructive book, she offers incredible insights into the mind of the sufferer and the myths of eating disorders. Softcover, 271 pp., $14.95.

S-Anon is an international fellowship of recovery for those affected by the sexual addiction of a spouse, relative or friend. It is based on the Twelve Steps of Alcoholics Anonymous and helps individuals who have felt hurt, ashamed, or embarrassed by someone else's sexual conduct. Paperback, 154 pp., $10.00

We have two offerings from Sexaholics Anonymous: SA's 12-Step Book (Softcover, 212 pp., $10.00) dealing with sexual addiction; Recovery Continues (Softcover, 95 pp., $8.00) which offers wonderful short essays on a variety of topics dealing with sexual addiction.

Sister Ignatia: Angel of Alcoholics Anonymous is the true story of a Sister of Charity of St. Augustine who, driven by a strong need for perfection and unable to recognize her deep fear of failure, eventually had a total physical and mental breakdown. After her own recovery, she began to help the founders of AA with treating alcoholics. A wonderful, inspiring, and true story that gives insights into the beginnings of the 12-step movement. Softcover, 300 pp., $18.95. New Edition.

The Soul of Sponsorship is an inspiring book that explores the relationship of Bill Wilson (co-founder of AA) and the Jesuit priest, Father Ed Dowling. Many might consider that such a remarkable individual as Bill Wilson, who was the primary author of AA literature, would be able to deal with many of life's problems on his own. Reading this book will illuminate and answer the question of how Father Ed, an Irish Catholic Jesuit, was able to be of such great help to Bill Wilson. Softcover, 14l pp., $11.95.

The Spirituality of the Twelve Steps Father Emmerich's lecture series given to a live audience. In this series Fr. Emmerich grounds the Twelve Steps in classical Christian spirituality, while giving examples from every day life. Nine, one-hour disks (the first in the series is a bit longer) in an attractive case $65.00 for CDs.

To Slake a Thirst: The Matt Talbot Story. The Matt Talbot Way to Sobriety! Author Philip Maynard lays out the spiritual road to sobriety that was taken by the saintly Matt Talbot. It is written to help those for whom other programs may not have worked or who are looking for a more spiritual approach. Paper, 181 pp., $12.95.

The Temperament God Gave You by Art & Laraine Bennett. All of us are born with distinct personality traits. Some of us live for crowds and parties; others seek solitude and time for quiet reflection. Some of us are naturally pushy, while others are content just to get along. We don't pick and choose these traits; they're just part of the way we're made. Here veteran Catholic counselor Art Bennett and his wife Laraine provide an accessible synthesis of classical wisdom, modern counseling science, and Catholic spirituality: a rich understanding of the temperaments and what they mean for you and for your family. Paperback, 228 pp, $17.95.

The Temperament God Gave Your Spouse. In their bestselling book The Temperament God Gave You, authors Art & Laraine Bennett reintroduces the age-old concept of the four classic temperaments, and showed how to use them to understand yourself, get along with others, and grow closer to God. In this new book, the Bennetts provide even greater insight into the different attributes of the four types of temperaments. So often people wish they could make their spouses different (because they're not "just like us"); yet the Bennetts show that true marital contentment lies not in changing the way God made our loved ones, but in appreciating it-and helping them to perfect it.Softcover, 193 pp, $17.95.

Toxic Parents: Overcoming Their Hurtful Legacy and Reclaiming Your Life. All parents fall short from time to time. But Susan Forward pulls no punches when it comes to those whose deficiencies cripple their children emotionally. Her brisk, unreserved guide to overcoming the stultifying agony of parental manipulation--from power trips to guilt trips and all other killers of self worth--will help deal with the pain of childhood and move beyond the frustrating relationship patterns learned at home. Softcover, 308 pp, $15.99.

The Twelve Steps for Christians is a powerful resource for merging the practical wisdom of the Twelve Steps with the spiritual truths of the Bible. This combination of recovery and spirituality offers Christians an effective way to work a traditional Twelve Step program in light of the Gospel. Softcover, 239 pp., $9.95. The companion work book (The Twelve Steps: A Spiritual Journey) offers the same text, but in workbook format with questions.

The Twelve Steps: A Spiritual Journey presents the same material as the book The Twelve Steps for Christians but does so in a workbook format, with questions for individuals to work on at their own pace or in groups with others. It is a working guide for healing damaged emotions, with the aid of Biblical passages. The book is printed in a large format (8 1/2 by 11), Softcover, 259 pp., $16.95.

Offering words of encouragement and helpful suggestions for those who suffer from the affliction of scrupulosity and for the people who counsel them, Understanding Scrupulosity is a welcoming and pastoral book that is sure to ease a person's doubts while it helps restore true peace of mind and soul. Softcover, 308 pp., $26.95.

Almost everyone has heard of or knows someone who is part of a verbally abusive relationship - if they're not in one themselves. In The Verbally Abusive Relationship, you'll find validation and understanding and encouragement for your efforts to change the situation. Expanded 3rd edition. Softcover, 221 pp., $15.95.

Way to Inner Peace Rich in psychology and richer yet in New Testament spirituality, Archbishop Sheen's Way to Inner Peace provides an invaluable guide to all those who, for whatever purpose, are seeking the way to inner peace inner happiness.Paperback, $7.95 each.

A recent study indicated that 38% of the women interviewed had been sexually abused by an adult or family member by the age of 18. You may think you don't know anyone who has been sexually abused, especially if most of your friends and acquaintances are Christians. But the statistics indicate otherwise: Sexual abuse knows no religious or social boundaries. The Wounded Heart: Hope for Adult Victims of Childhood Sexual Abuse is an intensely personal and specific look at this most "soul deadening" form of abuse. Personal because it may be affecting you, your spouse, a close friend or neighbor, of someone you know well at church. And specific because it goes well beyond the general issues and solutions discussed in other books. Dr. Allender's book reaches deep into the wounded heart of someone you know, exploring the secret lament of the soul damaged by sexual abuse--and laying hold of the hope buried there by the One whose unstained image we all bear. Paperback, 301 pp., $16.95.